[fusion_builder_container hundred_percent="no" equal_height_columns="no" menu_anchor="" hide_on_mobile="small-visibility,medium-visibility,large-visibility" class="" id="" background_color="" background_image="" background_position="center center" background_repeat="no-repeat" fade="no" background_parallax="none" parallax_speed="0.3″ video_mp4="" video_webm="" video_ogv="" video_url="" video_aspect_ratio="16:9″ video_loop="yes" video_mute="yes" overlay_color="" overlay_opacity="0.5″ video_preview_image="" border_size="" border_color="" border_style="solid" padding_top="" padding_bottom="" padding_left="" padding_right=""][fusion_builder_row][fusion_builder_column type="1_1″ layout="1_1″ background_position="left top" background_color="" border_size="" border_color="" border_style="solid" border_position="all" spacing="yes" background_image="" background_repeat="no-repeat" padding="" margin_top="0px" margin_bottom="0px" class="" id="" animation_type="" animation_speed="0.3″ animation_direction="left" hide_on_mobile="small-visibility,medium-visibility,large-visibility" center_content="no" last="no" min_height="" hover_type="none" link=""][fusion_text]

[/fusion_text][fusion_separator style_type="none" hide_on_mobile="small-visibility,medium-visibility,large-visibility" class="" id="" sep_color="" top_margin="" bottom_margin="" border_size="" icon="" icon_circle="" icon_circle_color="" width="" alignment="center" /][fusion_button link="https://8trips.official.ec/items/6623199″ title="" target="_self" alignment="center" modal="" hide_on_mobile="small-visibility,medium-visibility,large-visibility" class="" id="" color="default" button_gradient_top_color="" button_gradient_bottom_color="" button_gradient_top_color_hover="" button_gradient_bottom_color_hover="" accent_color="" accent_hover_color="" type="flat" bevel_color="" border_width="" size="xlarge" stretch="default" shape="" icon="" icon_position="left" icon_divider="no" animation_type="" animation_direction="left" animation_speed="0.3″ animation_offset=""]Resister HERE[/fusion_button][fusion_separator style_type="none" hide_on_mobile="small-visibility,medium-visibility,large-visibility" class="" id="" sep_color="" top_margin="" bottom_margin="" border_size="" icon="" icon_circle="" icon_circle_color="" width="" alignment="center" /][fusion_text]
The summer fireworks festivals, or hanabi (lit. fire flowers), originally meant to scare away evil spirits and are a major part of Japanese culture, not to be missed when you visit Japan. The Nagaoka Fireworks are held annually along the banks of the Shinano River over two nights in August and the finale covers about two kilometers of the river, the widest span of fireworks in the world! Getting a seat for this event is not easy.
•Enjoy traditional Japanese Hanabi in Niigata.
•Enjoy the world's widest span of fireworks display.
•Spectator seat included at the fireworks display.
•Enjoy a tour of NISHIKIGOI and TANADA (terraced paddy field).
•Enjoy traditional Japanesefood.
•Including accommodation at a traditional Japanese house.
---
---
The Nagaoka area in Niigata Prefecture, facing the Sea of Japan, has unusually heavy snowfall even compared with other places around the world. Located in the basin of the ShinanoRiver, this is a region famous for its prosperous rice cultivation and production of Japanese rice wine. The area is also renowned for its traditional culture, such as the NISHIKIGOI and TANADA (terraced paddy field), and the Nagaoka Festival (including the Nagaoka Fireworks Display held at the beginning of August).
---
---
09:40 Arrival & meeting with a tour guide at JR Nagaoka station
10:35 Visiting a SAKE brewery
11:25 Local cuisine lunch at Yamakoshi
13:00 Visitng terrased carp pond & paddy rice field at Yamakoshi
(The First Japanese Agricultural Heritage site )
14:40 Arrival at the traditional folk house
Free & Easy including a hot spring resort
17:45 Departure to Nagaoka fireworks
19:00 Enjoy Nagaoka fireworks (Bento Box dinner on the spot)
23:00 Returing to the traditional folk house
07:20 Exploring SATOYAMA Kizawa villege (Rural natural areas)
08:00 Enjoy local breakfast at the traditional folk house
10:10 Visiting a local market
11:30 Departure from JR Nagaoka station
*MEAL:Breakfast 1,Lunch 1,Dinner 1(Bento Box )
*Accomodation: Echigo-Kawaguchi Hotel Sun Rolla, Traditional folk house
*Please note that in circumstances deemed necessary and appropriate by the program operators, adjustments to the itinerary listed above may be made without prior notice.
*Accomodation will be room sharing bases. (man and woman)
*Transportation to/from Nagaoka,as well as personal purchases of souvenirs and/or additional food and beverages are not included in the package price.
*Full itinerary attending by a licenced tour guide.(English and Japanese speaking)
*Payment available by Credit Card, Convenience stores, ATM.
[/fusion_text][fusion_text]
---
---
---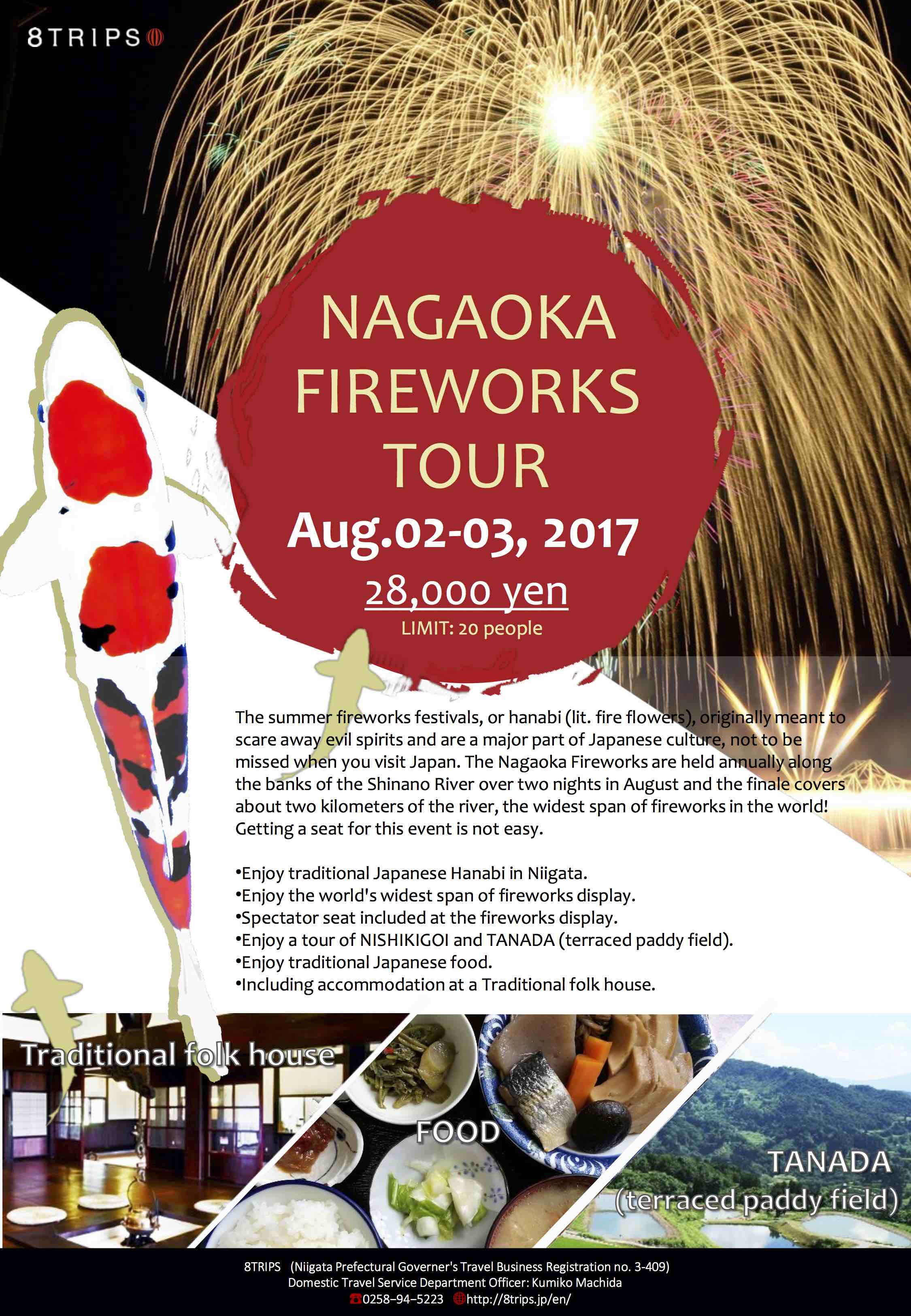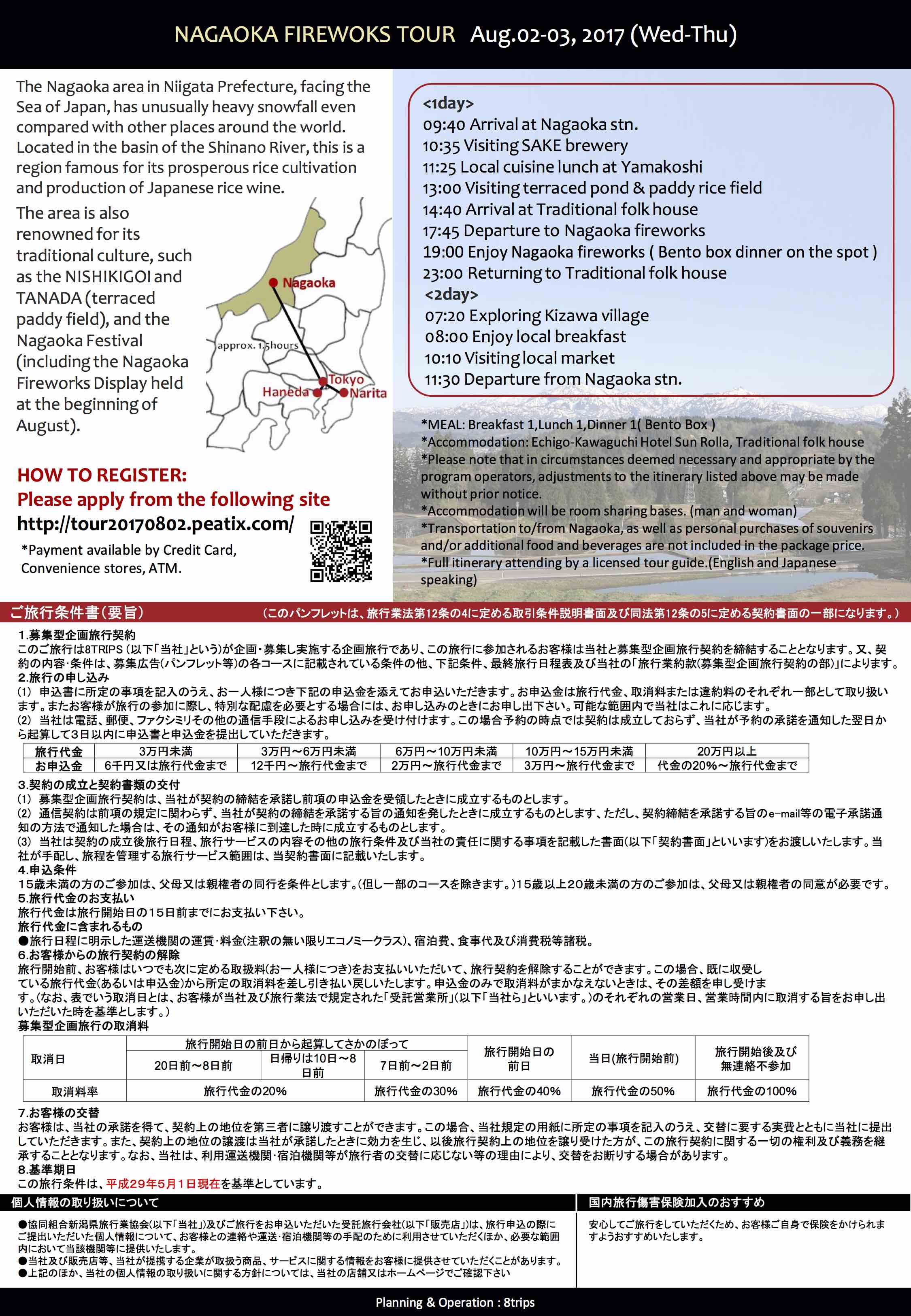 [/fusion_text][/fusion_builder_column][/fusion_builder_row][/fusion_builder_container]