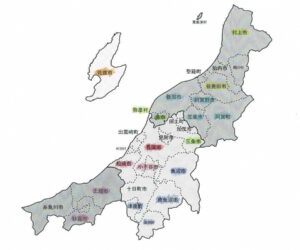 "OMAKASE" tours for your convenience
We offer the best tours depending on the season and time of year you come.
Spring is a time when you look up at the sky and see cherry blossoms all over the sky filling your field of vision.
The summer that becomes a memory, shaking memories unintentionally with the sky full of fireworks that shoot up into the sky, as opposed to the flames that burn.
Walking in autumn, the light sound of falling leaves. Autumn is a little chilly, but the air is somehow comforting.
A white and fleeting winter, as if the world has shifted to a silvery white world.
Please take a look at this list of pilgrimage destinations in Niigata, Japan, which is full of its own charm in every season and time of the year.
We offer our clients a one-of-a-kind custom tour!


Cultural Experience
We would like visitors to experience the unique lifestyle and culture of the Japanese people, the way of life unique to Niigata Prefecture and other prefectures, the seasonal changes in animals, plants, etc., and the way culture is transmitted.
Tour Example
Niigata
Cycling Tour in Nagaoka Yamakoshi

View Nishikigoi

Go to Teradomari to explore and eat at the fish market.

Strolling in Furumachi


※Unauthorized use or reproduction of photographs is strictly prohibited.